Well, at the moment I feel kind of swamped. First, I'm way behind in reading for school...which makes it harder to read what I have lined up to read for fun (which is the reason I'm trying my best to avoid lining things up for fun...). It's just that *Robinson Crusoe* can get a little tedious...it's taken me quite a while to get through it. You don't even want to know how many weeks (yes, weeks) I'm behind in school reading. *sigh* But I just wanted to share with you my lineup so you guys can just get a glimpse of the stuff I'll be reading (hopefully) in the near future.
Going Solo, an autobiography by Roald Dahl of his years as a military pilot...
A Separate Peace by John Knowles...don't know much about what it's about...
Mrs. Frisby and the Rats of NIMH by Robert O'Brien - no idea what that's about *looks a little scared*
and the last of the school books (up to now) - Jane Eyre by Charlotte Bronte.
Now for the for-fun titles...Dewey by Vicki Myron (my grandmother gave it to me for Christmas and I still haven't read it...*sigh* I feel bad...)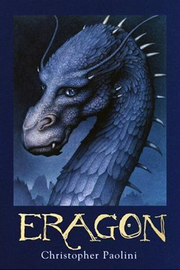 Aaand last but not least, the book we all know and love...*winks*...Eragon by Christopher Paolini. Everyone's always telling me how "amazing" it is and I've just never gotten around to reading it. I guess I'm behind the times a little...heh heh...
Obviously, I've never read any of these books before. If you have, I'd love it if you'd drop me a comment and tell me what I'm in for. ;D